New Patients
First Time Patients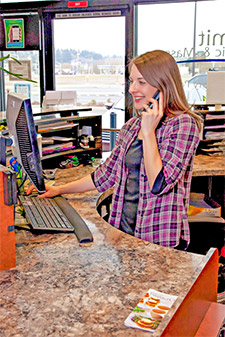 You can expect your first visit to last about 20 minutes, and that you'll need to fill out some initial paperwork.
Precisely what will happen during that first visit depends on your health goals.
If you're here to address pain or correct an issue will be assessed and adjusted on the first day, so they can find relief. And if you're here for wellness care we'll go through a full battery of assessments and ask you to come back for a report of findings so that we can best address their holistic needs. These follow up visits take around 20 minutes as well.
Take a look at our About Us page to learn about Wellness Scoring and how we use it to assess your overall health. All new patients will have their Wellness Score assessed.
ONLINE FORMS »

Return Visits
Once you've begun care, you subsequent visits to be adjusted will last around 15 minutes, from start to finish.
"This is a low stress office and we work to create a welcoming and very relaxing environment," says Dr. Pow.
Many of our patients have come to see the value of chiropractic care, and understand that it proactively improves their health. You may or may not decide to continue with your care, but we hope you will see results and be excited about what chiropractic does in your life.
Schedule an appointment at Summit Chiropractic & Massage and let us know how this website has helped you in preparing for your visit.

New Patients | (360) 750-7220